LensAlign MkII Focus Calibration System by Michael Tapes Design
Product Videos
LensAlign Video #01 - Why aren't your pictures as sharp as they should be?
04:46
Using LensAlign, Michael Tapes describes how tuning your lenses and camera bodies can help you to make sharper pictures.
LensAlign Vide...

Using LensAlign, Michael Tapes describes how tuning your lense...

Video #03 - Po...

Video #03 - Positioning LensAlign and Camera
LensAlign MkII Focus Calibration System by Michael Tapes Design
Product Description
LensAlign MkII is a precision reference tool that enables photographers to accurately measure and then adjust the Auto Focusing accuracy of their DSLRs. It also reveals the performance of the camera's manual focus system.
A few years ago, photographers started to notice front/back focusing problems with their DSLRs. For example, when their camera's AF system was locked on a person's eye, the person's nose or ear was actually the sharpest part of the captured image. In order to allow hundreds of lenses and bodies to be interchangeable, the tolerances within the manufacturing process can cause any specific body/lens combination to potentially exhibit these front/back focus anomalies. To compensate for this condition, most new professional and enthusiast DSLRs have an Auto Focus Adjustment within their menu system. LensAlign was created as a focus system measurement standard by which photographers can accurately measure and improve the performance of their cameras' focus systems. Like its industry standard LensAlign PRO predecessor, the LensAlign MkII features an exclusive and patent pending True Parallel AlignmentTM (TPATM). TPA verifies perfect parallel alignment between the camera sensor plane and the target surface of LensAlign, a requirement for consistent and precise Auto Focus adjustment. LensAlign MkII comes standard with a 10.5" Focus Display Ruler containing 2 alternate display patterns, one on each side. A 24" Long Ruler add-on option will be available in early February. LensAlign MkII is shipped flat in a Priority Mail postal envelope to reduce shipping costs. The MkII can also also be disassembled for travel or storage.
Reliably test your DSLR Auto-Focus system performance
Adjust the Auto-Focus Fine Tune and Micro-Adjustment on compatible DSLRs
Improve the "out of box" performance of your compatible DSLR
Ensure precise camera to target alignment required for proper AF evaluation
Simple assembly - under 5 minutes and no tools required.
Product dimensions: 11 x 4 x 6 inches; 6.1 ounces
Ships flat. Simple assembly required (under 5 minutes with no tools).
Please see the Specifications tab below for additional information.
Specifications
What is LensAlign?
You're a journalist capturing the speaker at the podium...
You're a sports shooter targeting the chest of a speed skater...
You're shooting glamour up close, really tight DOF, and that lead eye better be tack sharp...
For any money shot, capturing that perfect moment is critical. They're all important photographs; sometimes there's only one chance to get them. So you don't want your focus system to let you down. You need that shot to be sharp??if it ain't sharp, you lose the game, the job and the next job.
Almost all cameras and lenses are mass produced. Any mass produced product, even very expensive DSLRs and high-end lenses, is designed and manufactured within certain allowed tolerances. The sensor and the focal plane, the autofocus mirror assembly and the focus sensor, and the myriad of other critical tolerances are not all perfect. In combination, these manufacturing tolerances can degrade accurate focus performance.
If a focus problem exists, before you can fix the problem, you need to accurately measure any focus deviation. Now you can.
LensAlign is a patent pending hardware-based tool for precision focus analysis of camera and lens combinations. Photographers and camera repair facilities can use LensAlign to determine if the focus system of the camera (auto and/or manual) is working properly with each and every lens. In other words, using LensAlign, one can assess whether a specific camera body and lens combination is capable of attaining the maximum sharpness for that pairing. Having a LensAlign system in your studio or home is like owning a factory-quality calibration system providing quick, accurate and repeatable results.
And now, when used with LensAlign, many of the latest DSLRs allow you to adjust the auto-focus for each lens using their menu accessable Micro Adjustment or AF Tune feature.
Precision and Certified
Some homebrew solutions advise you to focus on a tape measure running away from you, the camera held at a 45 degree angle. But as an expert points out, "doing so will degrade the consistency of the camera's focusing measurement." Trying to autofocus on a single line on the tape measure, only a few pixels of the autofocusing system (which is just multiple pairs of linear pixel arrays) will be able to see the target. "Ideally," he recommends, "the contrast in the reference target should cover the entire area of the camera's center focusing point, and the reference target should be perfectly parallel to the camera's focal plane. Additionally, precision focus testing requires the following:
The focusing target needs to be significantly larger then the focus point itself to account for focus sensors that are slightly off-center from the point indicated in the viewfinder display.
The plane of focus needs to be 100% parallel to the sensor otherwise the focus sensors can produce varied results.
The measurement of focus should occur as close to the center point of the image as possible to eliminate field curvature errors.
The measuring scale must be a straight and accurate device that can allow you detect your focus plane at a glance.
Measuring should occur at your normal working distance, or at a minimum of around 20x the focal length of the lens.
LensAlign is designed to achieve all of these criteria in a simple, compact and easy to use measurement tool. LensAlign PRO and LensAlign PRO PLUS are individually laser tested and certified for accuracy.
Fast, Accurate, Repeatable
LensAlign reduces setup time to a few minutes (just mount it on a tripod) and produces the exact same focus repeatability for each test.
Now, You Are In Control
In the past, the solution was to send your camera body and lens to the manufacturer to have them calibrated together. Often after doing so, when you purchase another lens, you find to your disappointment that the new lens also needs to be calibrated.
Shipping your body and all of your lenses to the manufacturer is expensive and time consuming. Having your own Focus Test System gives you the ability to make the adjustments you need to achieve precise focus, or to provide the evidence that the service facility requires to effect a repair or honor a warranty.
User Manuals for LensAlign MkII
*The graphics show the Pro model, however the MkII works exactly the same.
How LensAlign Works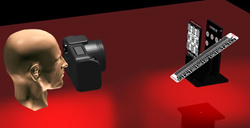 1. Setup LensAlign and the camera to be tested
Mount the camera/lens combination to be tested on a tripod. LensAlign can be table-top or tripod mounted via its 1/4-20 tripod socket. Set the test camera's aperture to 8. Looking through the test camera??s viewfinder, adjust the camera??s position so that the center Focus Star of LensAlign (labeled B) is approximately aligned with the center autofocus point of the camera.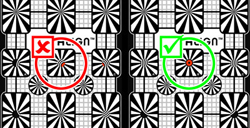 2. Sight the camera to LensAlign
The goal of alignment is to adjust the camera's position until the hole in the Rear Sighting Plate "Bullseye" is centered in the center Focus Star (labeled B), and both are centered in the frame. When this is achieved, the Focus Target of LensAlign and the camera imaging plane will be perfectly parallel, which is required for accurate focus evaluation. (Note that only the center Sighting Dot will appear centered when perfect alignment is achieved).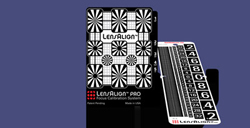 3. Capture test images
Mount and adjust the Depth Of Field (DOF) Ruler's angle to position #3 (or a preferred position). Set the Sight Gate to its DOWN (closed) position. Set the camera to Manual or Aperture Priority exposure mode and open the aperture of the lens to its lowest ?Ÿ stop. Focus and capture test images.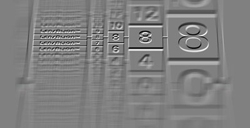 4. Evaluate test images
Using your photo editing software, evaluate your results as displayed on the DOF Ruler in your test captures. In Photoshop, applying the Emboss filter to test images can enhance the visibility of test results. If the test camera has Auto Focus Micro Adjustment capability, use it to correct auto focus errors that you may observe.
Customers also viewed