P-10 Arca-Swiss Style Lens Plate, 3.31" Long
P-10 Arca-Swiss Style Lens Plate, 3.31" Long
Product Description
The Wimberley Arca-Swiss style lens plates come with safety stops at the front and back of the plate in order to prevent your lens from accidentally slipping out of the quick release clamp. The double dovetail cross-section on the plates allows you to attach Wimberley flash brackets to the upper or lower surface of the plate. Wimberley plates are ideal for Wimberley's flash bracket system components but have been milled to also accommodate Really Right Stuff and Kirk flash brackets.
The P-10 has anti-twist nubs at the back of the plate. These help to keep the plate from twisting if it is mounted with only one fastener. Wimberley's design is unique in that it consists of two small nubs with a .7" space in between instead of a single flange. This provides better performance when butted against a curved surface. This design also allows the nubs to straddle the reinforcing web found on the back of some lens feet.
Lens plate and replacement feet compatibility chart →
Includes a 5 year warranty as well as one additional plate fastener.
Please see the Specifications tab below for additional information.
Due to manufacturer's policy, Wimberley® brand products are not eligible for promotional discounts or coupon codes.
Specifications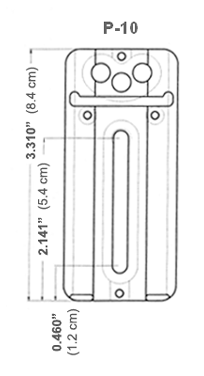 Included
Four fasteners and a hex key to secure them to the lens plate.
One additional fastener
One captive screw and its hex key to affix the plate to the lens.
Optional
Check the lens chart to see if your lens requires extra fasteners. If your lens has a 3/8" mounting hole instead of the smaller 1/4" hole you can purchase a brass reducer bushing which will solve this problem.
Consider the Wimberley flash bracket system, which allows flexibility with flash configurations, from macro to telephoto applications.
Customers also viewed