Leather Shell for HEAT3 Extreme Winter Photography Gloves System
Leather Shell for HEAT3 Extreme Winter Photography Gloves System
Product Description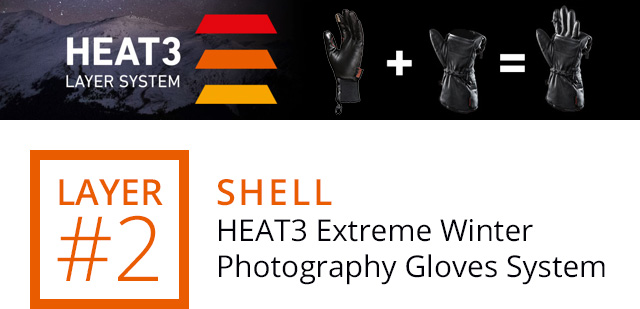 The Leather Shell by Heat Company is one of two options as the second layer of cold weather protection in the HEAT3 winter photography gloves system for outdoor photographers. Also see the Smart Shell, an outstandingly warm mitten that is wind and waterproof while also being breathable with a palm side made of 100% goat leather and a unique mitten flap.
Why You'll Love It
Leather Shell is Heat Company's warmest mitten, offering superior comfort and breathability, made of 100% goat leather that is not only soft but strong to stand the test of time. Premium PrimaLoft® Gold & Grip Control provides the best insulation on the market. All design features are the same as the Smart Shell, including the unique thumb flap.
About the HEAT3 Layer System
The HEAT3 Layer System is a customizable glove configuration for adventure photographers who love photographing outdoors in extremely cold weather and Arctic winter conditions. Don't be held back by the biting cold on your next outdoor expedition! Embrace winter photography in comfort by keeping your hands warm and without worry of getting frostbite. From Antarctica to Norway and everywhere in between, these winter photography gloves are the best gloves for photographing in cold weather.
Customize Your Winter Photography Gloves System
STEP 1: Select a Liner
Before selecting your Shell, you first need to choose a Liner to wear underneath it.
Merino Liner, offering a perfect fit with stretchable material, making them not only comfortable to wear but providing freedom of movement when you need it most.
Durable Liner, which is windproof and has a palm side made of soft sheep leather. The Durable Liner is very strong with a special long knitted cuff for additional warmth and protection.
STEP 3: Add a Polar Hood
After you've chosen your glove Liner and Shell, you may opt to add a Polar Hood to your glove system. The Polar Hood is an extra layer worn over a Shell during the harshest of winter weather conditions.
Please see the Specifications tab below for size chart and additional information.
Specifications
Size Chart for HEAT3 Extreme Winter Photography Gloves System
100% Goat Leather
Heat company opted for high-quality goatskin, since it is one of the most robust types of leather, yet is very soft and is most comfortable to wear.
Leather as a natural product is unbeatable! No modern high-tech material offers comparable durability and warmth while offering technical advantages over alternative materials. One gram of leather has about 300m2 of inner surface. The microscopically fine fibers are intensely interconnected. It has a high tensile and flexible strength, is aging and temperature resistant with proper care, and can hold up to 30% water without being wet. Leather can also absorb moisture from the inside and release it to the outside making it is highly breathable. No artificial leather or substitute can achieve these benefits even closely. Leather is ideal for gloves, as it offers clear advantages and unprecedented comfort.
Heat Company HEAT3 Gloves are certified and checked for contaminants and toxins and comply with the REACH agreement, which is the European Union Chemicals Regulation.
PrimaLoft® Gold Insulation
The Heat Company uses only PrimaLoft® Gold insulation, which is the best of the best! It's as warm as down, warm without bulk, highly breathable, lightweight, provides superior softness and moisture management, is highly water-resistant, fast drying, and maintains 95% heat retention even in wet condition.
Caring for Leather
Keep the leather looking great by using beeswax and jojoba oil specially designed to maintain the high quality of your HEAT3 leather gloves. Taking care of the leather nourishes the gloves, keeping them soft and supple while refreshing its natural color. Existing and/or minor scratches you may get on the leather will become significantly reduced.
Special Functionality for Outdoor Photographers
Mitten flap with magnetic closure; simply pull the flap back and use the liner instead for optimum dexterity.
Silent closing using magnets for fixing the mitten and thumb flap.
Extra pocket on the back side of the mitten keeps a handwarmer in place or your keys.
Easy-off leash.
Thumb flap allows for optimal warmth and movement when needed.
Safety strap with elastic wrist band prevents the gloves from falling off.
For even more protection, there's an extra long cuff with a snow lock.